Experience the beauty of both Cambodia and Vietnam during this eight-day river cruising journey. Take in Wat Phnom, the Grand Palace, the S21 Museum, and the Tra Su Bird Sanctuary and prepare to see things you'll never forget (but bring your camera anyway). Get a true taste of river cruising while visiting the Cai Be floating market, the fishing port of Kampong Chhnang, and stilt villages like Chnok Tru, where you'll learn about fish farming, pottery, and sugar palm production. Opt for bikes, tuk tuks, or local boats to get around and see rice paddies, monasteries, and local businesses.
What's Included
7 nights aboard the Toum Tiou II Riverboat. Chhnok Tru floating village visit. Kampong Chhnang visit. Vihara and pagoda visit (Kampong Tralach). Koh Chen island visit include cottage industries. Cyclo tour (Phnom Penh). Choeung Ek (Killing Fields) guided tour. Tuol Sleng Museum (S-21 Prison) guided tour. Apsara show. Tra Su Bird Sanctuary visit. Sam Mountain sunset visit. Kien An Cung Pagoda visit (Sa Dec). Vinh Long excursion. Vinh Trang Pagoda visit. Thoi Son Island cottage industries tour. Options to cycle to excursions along the way. Farewell cocktail and Captain's Dinner. All transport to/from included activities and between destinations.
Highlights
Sail the mighty Mekong, explore the floating markets and villages, discover Phnom Penh and get to know the locals of Kampong Chhnang, visit ancient temples and small villages, enjoy the atmosphere of a floating market.
Dossier Disclaimer
Itinerary Disclaimer
Important Notes
While it is our intention to follow the itinerary as advertised, some modifications to the itinerary are occasionally needed to reach Siem Reap while water levels are very low (March – August). The Toum Tiou II was built with a steel hull and sleek low draft, so occasions like this are rare.
If changes need to be made, they may involve docking the boat just before Siem Reap and using overland transportation to reach the final destination.
Group Size Notes
Max 28
Transport
Toum Tiou II Riverboat, private vehicles, walking
Solo Travellers
Accommodation
Aboard the Toum Tiou II Riverboat (7 nts).
My Own Room
About Accommodation
Cabins on board the Toum Tiou II all have exterior view windows and private bathrooms.
125 ft. (38m) Riverboat.
Built: 2008
Flag: Cambodian
Draft: 1.8m
Engine power: 450 HP
Speed: 11 Knots
Capacity: 28 Passengers
Cabins: 14 – 6 upper, 8 lower.
Boat Layout: Large screen television in lounge showing movies nightly. Library with classic literature, Wifi in public areas, outdoor
dining and lounge areas with comfortable seating.
Arrival Complications
What to Take
Most airlines allow up to two checked bags and one carry-on per person. To avoid any problems upon check-in and with possible excess baggage charges, please consult the airline for specific restrictions.
Dress on board the Toum Tiou II is informal. Plan to bring comfortable, casual clothing for all activities. When packing, we suggest that you do not weigh yourself down with too many clothes or too much gear. Select informal, practical attire that can be worn in layers.
Checklist
Passport (with photocopies)
• Travel insurance (with photocopies)
• Airline tickets (with photocopies)
• Cash in USD
• Cash, credit and debit cards
• Any G Adventures vouchers, pre-departure information or trip details
• Any entry visas or vaccination certificates required
• Camera, memory cards, batteries and chargers
• Reading/writing material
• Cover for backpack (suggested)
• Flashlight or headlamp
• Binoculars
• Rain poncho
• T-shirts
• Walking boots/sturdy shoes
• Sunblock
• Toiletries (biodegradable)
• Watch/alarm clock
• Water bottle (water available for refills)
• First-aid kit (should contain lip salve, Aspirin, Band Aids, anti-histamine, Imodium or similar tablets for mild cases of diarrhea, rehydration powder, extra prescription drugs you may be taking.)
-Antibacterial wipes/gel
-Ear plugs
-Plastic bags
Laundry
Laundry facilities are offered by some of our hotels for a charge. On board, you will have an opportunity to do one laundry drop off free of charge. There will be times when you may want to or have to do your own laundry so we suggest you bring non-polluting/biodegradable soap.
Visas
Please note that visas for Vietnam and Cambodia are the responsibility of the individual traveller. The visa requirements for your trip vary depending on where you are from and where you are going. For the most up to date information please check your Governments Foreign Ministry website or with you travel agent as rules do change. It is important that you check for yourself. For most travellers there will probably be an Embassy or Consulate in the country that you live in.
CAMBODIA – Visas can be obtained in advance from your local Embassy. You can also obtain your visa at the Cambodian border for approx. $30 USD very easily. You will will need two passport sized photos.
*Please have extra USD on hand in case the customs officials charge more at the border crossing.
VIETNAM – Visas for Vietnam need to be arranged ahead of time (BEFORE your trip) the processing time varies and they are not available upon arrival. Please note that an E-visa can not be processed if entering Vietnam at a land border.
Some nationalities don't require a Visa for Vietnam for shorter stays – please contact your Foreign Ministry for up to date entry/exit requirements.
Emergency Fund
Tipping
It is customary in Asia to tip service providers such as waiters, at approximately 10%, depending on the service. Tipping is expected – though not compulsory – and shows an expression of satisfaction with the people who have assisted you on your tour. Although it may not be customary to you, it is of considerable significance to the people who will take care of you during your travels. There are several times during the trip where there is opportunity to tip the local guides or drivers we use. You may do this individually, or your CEO will offer to collect the money and tip as a group. Recommendations for tipping drivers and local guides would range from $1.5-$3.5 USD per person per day depending on the quality and length of the service; ask your CEO for specific recommendations based on the circumstances and culture. Also at the end of each trip if you felt your G Adventures CEO did an outstanding job, tipping is appreciated. The amount is entirely a personal preference, however as a guideline $20-25 USD per person, per week can be used.
Optional Activities
Approximate costs (per person) for popular optional activities taken in free time are:
Cyclo tour (Ho Chi Minh City)- USD4
War Crimes museum (Ho Chi Minh City)- USD1
The Reunification Palace (Ho Chi Minh City) – USD2
Saigon Water Park (Ho Chi Minh City) – USD4
All prices are per person (unless stated otherwise), and are subject to change as services are provided by third party operators.
A Couple of Rules
Travel Insurance
Local Dress
In Asia the dress standard is more conservative than it is back home. When packing try to pick loose, lightweight, long clothing that will keep you cool in the usually hot and humid climate of Asian summers. In predominately Buddhist, Hindu and Muslim countries we ask that you dress respectfully and avoid very short shorts/skirts and singlets/tanktops when visiting temples or mosques or other holy sites.
Newsletter
Travel Forum - The Watering Hole
Group Leader
Chief Experience Officer (CEO) throughout, local guides.
Meal Budget
Allow USD55-75 for meals not included. Drinks and tips on board not included.
Meals Included
7 breakfasts, 3 lunches, 6 dinners
PRODUCT_LINE: AOVZSE, ID: 24231
Terms, conditions and restrictions apply; pricing, availability, and other details subject to change and/ or apply to US or Canadian residents. Please confirm details and booking information with your travel advisor.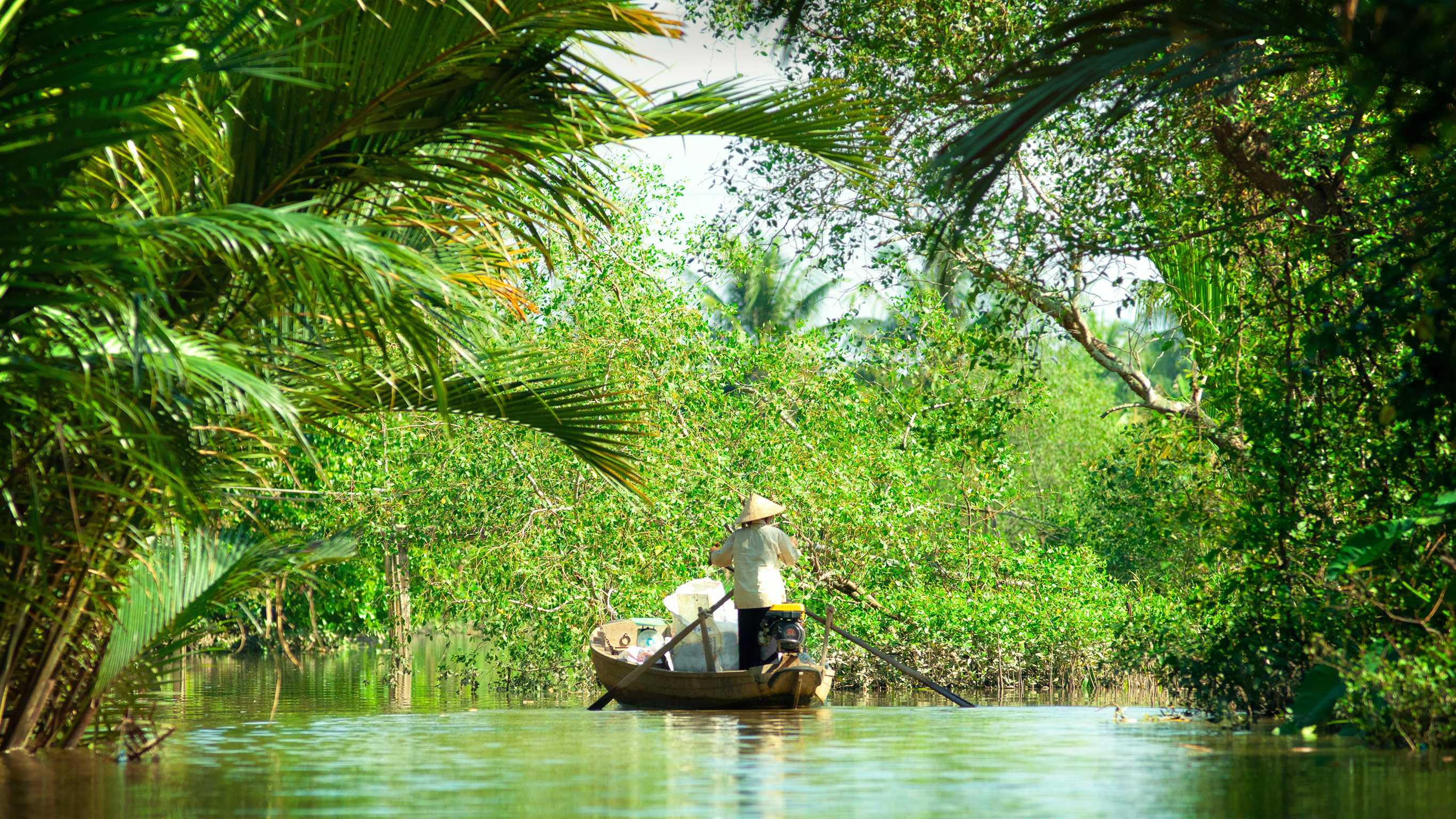 ---
Itinerary
Day 1 Siem Reap/Chhnŏk Tru (1D)

Embark around 2:30pm. Once on board, enjoy a welcome beverage and get to know the crew during an informational meeting before dinner on board.

Additional Notes:
When water levels are too low (possible from mid December to mid August) it may not be possible to embark at the port in Siem Reap. Alternatively, the group will transfer from Siem Reap to Koh Chen by bus and embark at Koh Chen at approximately 6:30pm.

Included Activities:
Riverboat Welcome Meeting

Transport:
Toum Tiou II Riverboat

Day 2 Chhnŏk Tru/Kampong Chhnang (1B, 1L, 1D)

After the day's excursions, enjoy dinner on board and relax as the riverboat drops anchor for the night.

Additional Notes:
When water levels are too low (possible from mid December to mid August) it may not be possible to visit the floating village at Chnok Tru. Alternatively, the group will visit a floating village at Kampong Chhnang and anchor near Koh Chen.

Included Activities:
Floating Village Visit
Kampong Chhnang Visit

Transport:
Toum Tiou II Riverboat

Day 3 Kampong Chhnang/Phnom Penh (1B, 1L)

Arrive early at Kampong Tralach and visit the local vihara (Buddhist monastery) and Wat Kampong Tralach Leu pagoda. Opt to cycle, or ride in a tuk tuk or buffalo cart, through the village and past rice paddies to reach the monastery. Return to the vessel and continue on to Koh Chen, an island in the river. Visit silver and copper workshops and meet a Khmer Rouge survivor eager to tell his story. Continue to the capital city of Phnom Penh. Take a cyclo tour past sights like Wat Phnom and the Grand Palace. Opt to finish up at the FCC for a happy hour cocktail overlooking the river or for dinner in town.

Included Activities:
Kampong Tralach Visit
Koh Chen Visit
Phnom Penh Cyclo Tour

Transport:
Toum Tiou II Riverboat
Toum Tiou II Riverboat
Toum Tiou II Riverboat

Day 4 Phnom Penh (1B, 1D)

Spend the day exploring all this city has to offer. Start with guided visits to the S21 Museum and the Killing Fields. Enjoy free time to explore the National Museum, Grand Palace or Russian Market. In the evening, return to the boat for an Apsara show before departure.

Included Activities:
Tuol Sleng Museum (S-21 Prison) Guided Tour
Choeung Ek (Killing Fields) Guided Tour
Apsara Show

Day 5 Phnom Penh/Sadek (1B, 1D)

Cross the border into Vietnam. Opt to cycle, or stay on board, to Chau Doc from the checkpoint. Visit the Tra Su Bird Sanctuary and soak in the sunset from the top of Sam Mountain.

Additional Notes:
During border crossing all passengers must stay on board as formalities are done on the riverboat. The boat will usually stay at the border for 2-3 hrs whilst all formalities are completed. Depending on time spent at the border, the itinerary for the afternoon may vary. Although this process is usually quite simple, delays can occur.

Included Activities:
Border Crossing (Cambodia – Vietnam)
Tra Su Bird Sanctuary Visit
Sam Mountain Sunset Visit

Transport:
Toum Tiou II Riverboat
Toum Tiou II Riverboat

Day 6 Sadek/Mỹ Tho (1B, 1L, 1D)

Visit the Kien An Cung Pagoda in Sa Dec and take the time to stroll through the market along the river. View the old colonial houses by the delta. Continue on to Vinh Long. Learn about rice popping and opt to cycle small paths through the communities here. Continue to Cai Be by local boats and meet up with the vessel. Drop anchor tonight near Thoi Son Island.

Included Activities:
Sa Dec Visit
Vinh Long Visit

Transport:
Toum Tiou II Riverboat
Toum Tiou II Riverboat

Day 7 Mỹ Tho/Ho Chi Minh City (1B, 1D)

Visit Vinh Trang Pagoda in the morning, catching a glimpse of My Tho town on the way. Cruise to Thoi Son Island by local boats for some local industry visits. Enjoy learning more about coconut product manufacturing and honey farming, with samples of honey and local fruit. Meet traditional musicians here. Opt for a local lunch on the island. Continue on to Ho Chi Minh City (Saigon) via the Cho Gao canal. Opt to cycle there instead. Enjoy a farewell cocktail on board before the Captain's dinner.

Included Activities:
Vĩnh Trang Pagoda Visit
Coconut Manufacturing Visit

Transport:
Toum Tiou II Riverboat

Day 8 Ho Chi Minh City (1B)

Depart My Tho in the morning. Arrive in Ho Chi Minh City. Tour ends upon arrival.

Transport:
Toum Tiou II Riverboat